Kasey Whitmore's narratives from Sept. 17 / 03. DSS Randolph County, Missouri.
Kasey Whitmore Narratives Page 1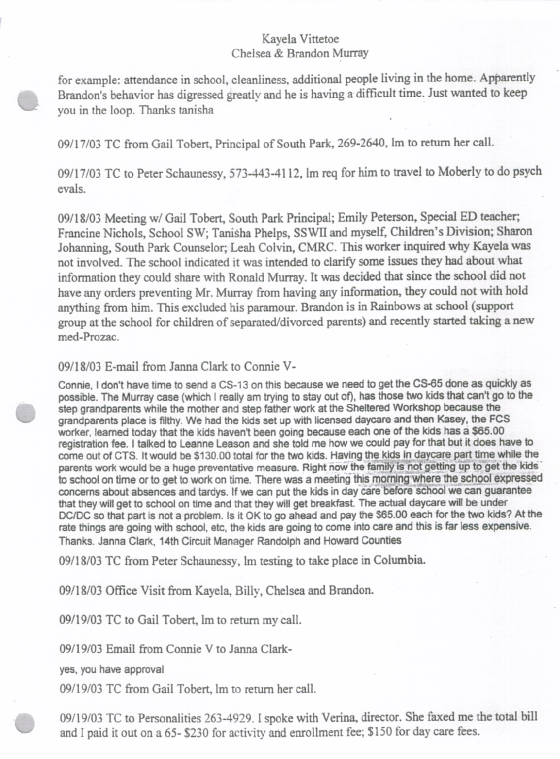 This really gets me. Right here they talk about them not getting the children to school, Janna is trying to stay out of this case. ( Gee, maybe because her son is living with the family? ). They also talk about the filthy living conditions of the grand parent's home. I talked of this in the page entitled "Our Plight" where Teresa White, the officer TOLD us about the conditions of that home, yet left the kids in it! The school was also trying to keep information from Ron, which is illegal as he was also their father.
Kasey Whitmore Narratives P. 2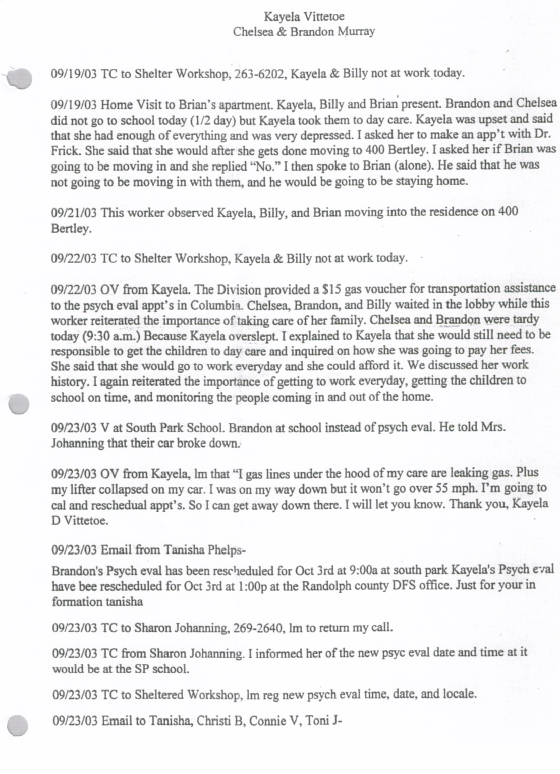 This again talks of kayela not taking the children to school. It also talks about psych evals for kayela and Brandon, there is no mention of Chelsea getting one, or one being set up for her, however Ron was accused by DSS in Adair County of cancelling the appointment for Chelsea. DSS set that up, how would Ron be able to cancel anything?
Kasey Whitmore Narratives Page 3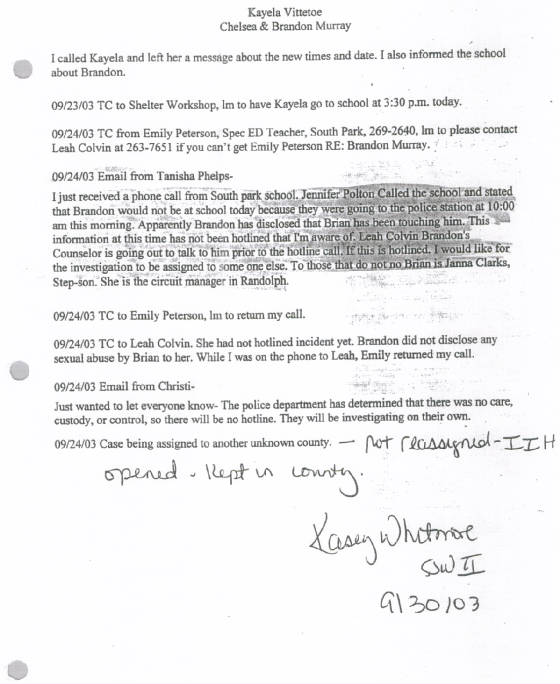 Right here it says that Tanisha Phelps, who was the DSS worker from Chariton County informs the Randolph County office, Kasey Whitmore that Janna is Brian's mother. The gray highlighted area where it talks about the phone call being placed by me ( Jennifer ) to the school is incorrect. I never called the school to report that Brandon would not be there. The kids were with Kayela, not us. We were already down at the police station waiting for Kayela, Brandon and Billy as we were supposed to meet them there to talk to the police about the sexual abuse of Brandon by Brian. Kayela did not show up, we were to be there at 10:00am. Finally at 11am, Ron went to the home to see what happened and they were still in bed. Ron got them all up to come to the police station. Chelsea had lice again and we took her to the Health Dept. after the meeting at the police dept. We would treat her hair and she would go home and come back to our house with it again. After so many times of treating that, the meds become toxic. We did not know what to do to help this child get rid of it, she was missing school because of it.
Never give up hope.