Here is the GAL's recommendation, full of mis statements, lies and plain ignorance. I will be adding the rebuttals later but this just takes the cake!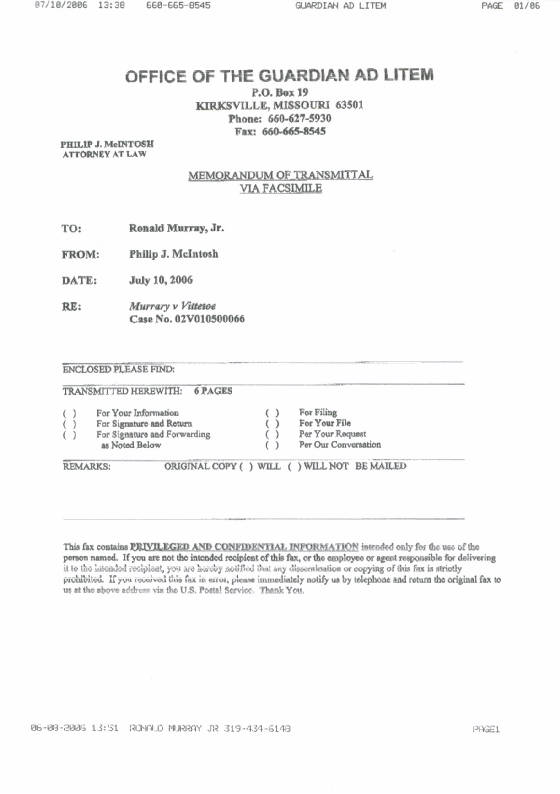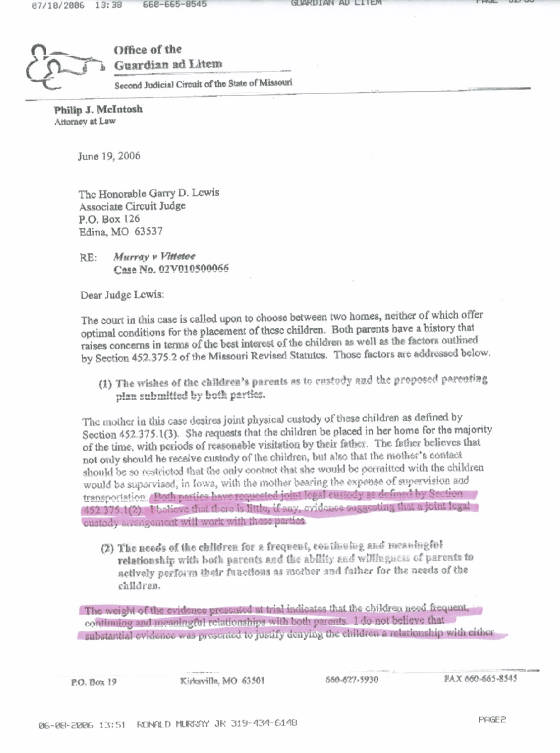 Rebuttal: Ron did not ask for Joint LEGAL custody, he is asking for SOLE Legal and SOLE physical custody. GAL has copy of this motion Ron put in, received in person at our home on May 22/06.
GAL says the weight of the evidence....18 hotline and referrals in Kayela's home since 2003 alone, removal of children for 3 days in 04, sexual abuse, sexual maltreatment ( founded ), educational neglect ( founded ), unsanitary/unsafe living conditions ( founded ), yet there is no evidence to support what Ron is saying?? The court just CHOSE to IGNORE the evidence!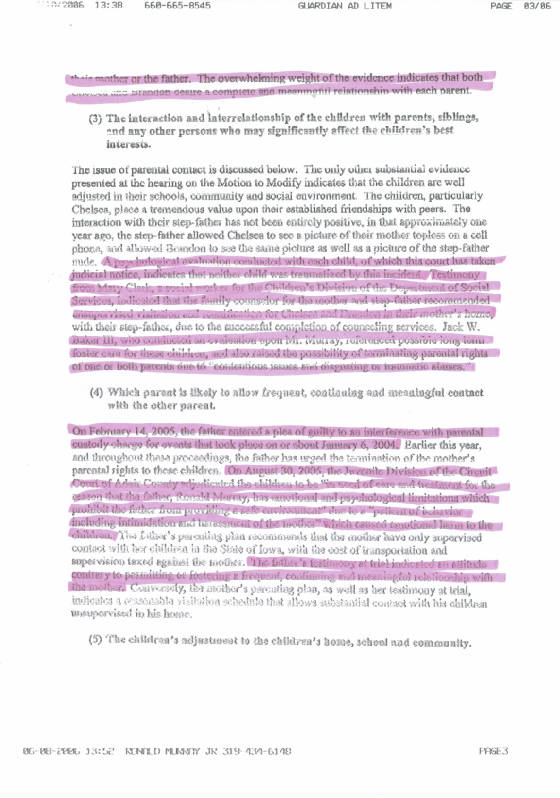 1. No psych eval on Ron had been done prior to this adjudication.
2. Ron was denied legal counsel 6 weeks upon his arrest, therefore he did not have legal counsel that was "informed" of everything prior to the adjudication hearing, as counsel was appt. that day. Continuance was denied.
3. No DSS founded reports on Ron, One DSS report on Ron 1998- unfounded. No police reports on Ron for domestic abuse of any kind on his ex or the children. Check out Missouri casenet for proof.
4. Ron's psych report from Jack Baker III after adjudication was done, shows total opposite of what GAL is saying, but that was not introduced by GAL.
5. Kayela kept children from Ron since 2001. When he did see or talk to kids, she made false allegations and would not return children to Ron. SO, who is keeping children from who?
6*** Ron did NOT plead guilty to interference with custody in February 05! It would be on casenet if he had as it would be public record! The issue from 04 interference with custody was recalled and DROPPED.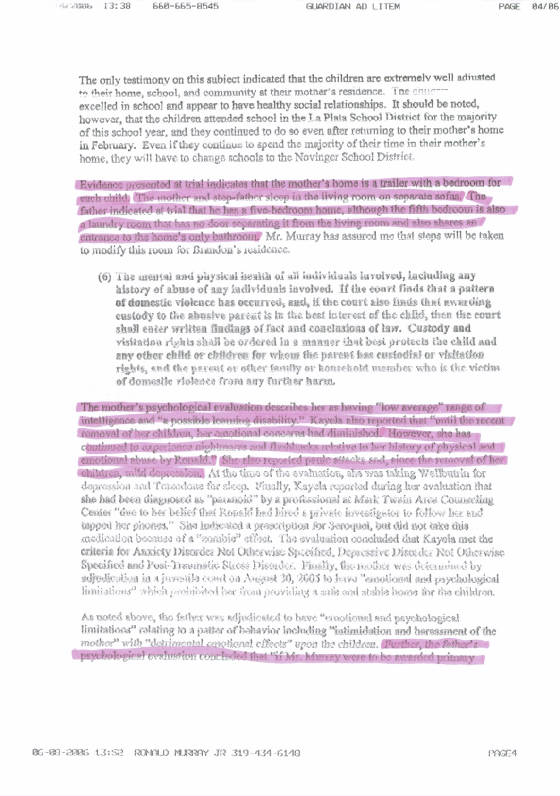 1. At trial on May 30/06 GAL had voiced concerns of the children's bedrooms being at opposite ends of the trailer and children walking through to go to the bathroom, in Kayela's home. Kaylea's reponse was: "it's not like we are doing anything."
2. Kayela has had emotional problems since before her and Ron were married, depression, anxiety, etc. She sought help in 01 after Ron had enough and wanted a divorce, she flushed her meds down the toilet after she sought help. Kayela has stated that her parents used to fight and her dad was abusive to her mother physically and that her mother used to slap her across the face and she feared her mother even as an adult!
3. We also told GAL that Brandon could share a room with one of my children, Robert. They have shared a room before and got along very well. Until we could get the appliances moved to the basement.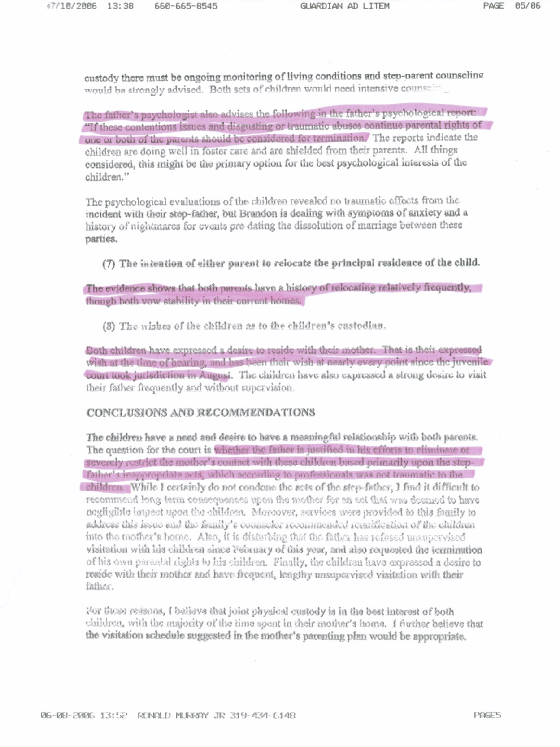 1. Baker was referring to Kayela.
2. Ron has only moved to better the home for his children, moved on his attorney's request, moved due to loss of our home in July 05 over the false arrest and once for issues of mold in our house from a broken pipe under the floor, I am highly allergic to mold.
3. Kayela has relocated due to non payment of rent ( evictions ) or being kicked out of her friend's homes for neglecting the children or abusing them, not taking them to school or leaving the friend with the children for extended periods and not showing up to care for them. She has also moved to keep Ron from having contact with the children, as one DSS report actually says she moved to "protect the children from Ron".
4. Police were at Kayela's a lot on calls. Moberly Police Dept.
5. Police were at her home after Feb 21/06 when DSS put the children back in her home without the court order.
I think after all of the evidence is being shown and GAL has this evidence, then it should show that Ron has just cause to want to keep the children with him and give Kayela supervised visitation, liberally, due to all of the abuse and neglect in her home. Fact is, children were shown and forced to look at nude photos of Kayela and her husband by her husband in July 05 and he is still in the home. It's still child sexual abuse!